Okay, so I've been flooded with emails. I even had a fan dropping hints by sending me a satin blindfold in the mail. All were asking the same question, when is Seduced into Submission #3 coming out. And guess what???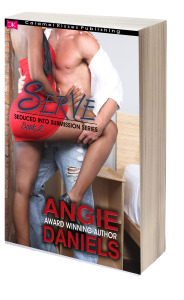 I've been avoiding you.
Yeah, yeah, I know. Guilty as charged. But see what had happened was…
I had this idea of this story of a desperate housewife who ended up having an affair with a rich and powerful man and I had no idea Curious would be so popular with my romance readers.  A married woman having an affair… really??? But readers loved it so I decided to write Serve and when I began working on that last scene I kept thinking, Angie, if you end the book that way you know readers are going to be asking for the next installment. And sure enough it began then I was biting my nails and asking myself, what have I done? And where do I go from here?
Obey is coming, but I want to make sure to give the book the justice it deserves, so it's taking longer than I'd anticipated. But I am pleased to announce the characters are finally starting to talk back and the next twist is underway. Thanks for being so patient and for loving the series so much.
For all the rest of you… have you read the Seduced in Submission series? Well what are you waiting for? Both books are available at all e-books retailers.
Seduced in Submission #1- Curious
Seduced in Submission #2– Served
Seduced in Submission #3 – Obey – coming in early 2016