Now that I'm an Indie author (no contracts, deadlines, restrictions, nada), one of the things I find most fulfilling is the ability to write whatever the hell I want. Lately, it's been whatever the readers want. My characters no longer have to be rich, or skinny. Hee-hee! Just regular folks with regular jobs falling in love. Sounds good, doesn't it?
Any-hooo…
Earlier this year, I bought a new refrigerator for next day deliver. I stayed up writing and had planned to sleep late that morning when I received a phone call from the sexiest voice I'd heard in a long time! The voice and the conversation were so arousing, I posted on Facebook how I was looking forward to putting a face to the voice. Of course my readers decided it was a wonderful story idea (they're avid romance readers so I don't expect any less), and I agreed. Of course, I forgot all about that day and my PROMISE…, but then I started getting emails, messages and Facebook posts from readers waiting to read the story.
Really?
Yes, really. So I wrote a novella and allowed my imagination to run wild.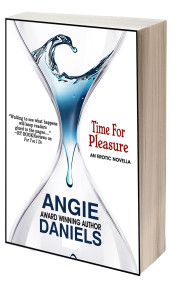 My motto, give your readers what they want and they'll keep coming back for more.
Time For Pleasure
Kaelyn Chambers is new to Sheraton Beach, Delaware and knows exactly what she wants her future to look like, a whole lotta fun, without commitment. So when she's awakened by a deep sexy voice, Kaelyn can't wait to meet the man with the mesmerizing sound. She just hopes he's like the one she spotted at the bar, giving her body a long, hot appraisal, making no attempt to hide the fact he likes what he sees. But will Mr. Right become Mr. Wrong when she discovers who he really is?
COMING SOON!