COMING IN APRIL!
Talk A Good Game
_____________________________________________________________
NEW RELEASE!
This Naughty Nibbles novella is the follow-up to the popular book, A Delight Before Christmas. It's Christmas time and Berlin Dupree Hodges has
everything—a happy marriage, a beautiful home and their first child on the way. However, this holiday it's all about to come crashing down when she begins to suspect her handsome husband general contractor Reggie Hodges is having an affair. And just when she thinks it's all in her head, everything changes and she must make a choice that no woman in love should ever face. Can their marriage be saved in time for Christmas?
__________________________________________________________________
NOW AVAILABLE!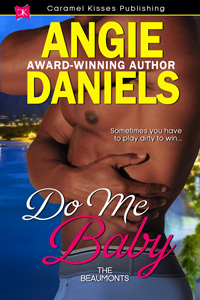 When Debra Anderson agrees to take a three-day cruise, she has no idea she'll be rooming with NBA star Rance Beaumont until after the ship has left the dock! After they agree to share the intimate space, the bakery owner decides to let loose and have fun with her sinfully sexy cabin mate. The attraction between them is so undeniably irresistible, Rance proposes a no-strings-attached weekend fling. Debra jumps at the chance, only to learn there's a lot to be said about—and done with—the oh-so-scrumptiously hot Beaumont.
 Rance doesn't believe in relationships—at least he didn't before he met the beautiful plus-size diva. Long after the weekend is over he still can't get Debra out of his head. Though he's convinced that the flaming heat will soon extinguish, he finds himself more hot and bothered with each passing day. Worse, his feelings are starting to overshadow his judgment on the court. Just when he's ready to risk everything, Rance discovers that Debra's been hiding something. Will the news bring him to his knees—or into her loving arms?
ORDER YOUR EBOOK OR PAPERBACK COPY TODAY! 
___________________________________________________________
Before I Let You Go
Book #5 of the popular Beaumont Series is now available for ebook download.
Kellis Saunders has loved Diamere Redmond since they were kids. But when Diamere abruptly left town, Kellis vowed to put him out of her mind—and her heart. Now the deliciously sexy nightclub owner is back, and he's ready to pick up where they left off. In spite of the passion exploding between them, Kellis isn't sure she's ready to risk her future on him.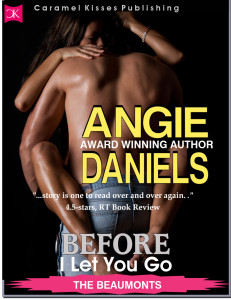 The last thing the once-burned bachelor wants is to put his heart on the line again. Then Diamere sees Kellis, the girl that got away. The sensual elementary school teacher seems determined to resist him, but Diamere is just as determined to change her mind. As she sets the scene for seduction, he vows to fight for the woman he loves. And this time it's for keeps.
Daniels' wonderfully heartwarming story is one to read over and over again. 4.5-stars, RT Book Reviews
Download Now at Amazon and B&N
Strutting in Red Stilettos
Angie Daniels returns with Book #2 of the sizzling Diva Diaries Series.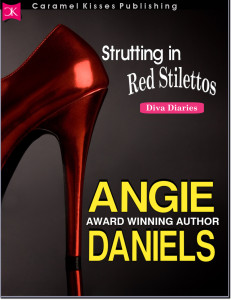 Ashley Wade is determined to have Slade Pierce right where she wants him—between her legs— and the sexy escort won't let anything stand in her way. But the more time they spend together, the more her body craves him until revenge is the furthest thing from her mind. And with each passing day she find herself falling for the former NBA star… all over again.
Download now at Amazon and B&N.
 The Player's Proposal
Award-Winning Author Angie Daniels returns with Book #3 of the popular Beaumont Series.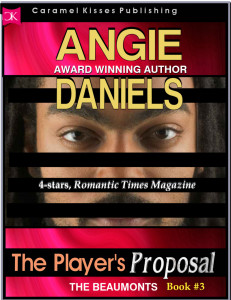 Danica Dansforth shared a month of sweet, sensual bliss under the sun and between the sheets with Jaden Beaumont—before feeling like a fool. Then she was outta that player's game! But fate had other plans when her car broke down, stranding her in his body shop, under his melting chocolate gaze and in the heat of a sizzling attraction.
Jaden wasn't about to forgive Danica for the games she played, but he would put her to work in exchange for some expensive repairs to her vintage car. Maybe now he could finally get some answers to why she left, and why memories of her warm cinnamon skin still kept him up at night. When it came to Danica, he was through playing. His heart was in this game for real.
Download Now at Amazon and B&N.