Home
Strutting in Red Stilettos
Angie Daniels returns with Book #2 of the sizzling Diva Diaries Series.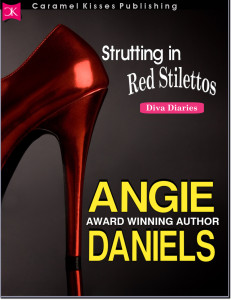 Ashley Wade is determined to have Slade Pierce right where she wants him—between her legs— and the sexy escort won't let anything stand in her way. But the more time they spend together, the more her body craves him until revenge is the furthest thing from her mind. And with each passing day she find herself falling for the former NBA star… all over again.
Download now at Amazon and B&N.
 The Player's Proposal
Award-Winning Author Angie Daniels returns with Book #3 of the popular Beaumont Series.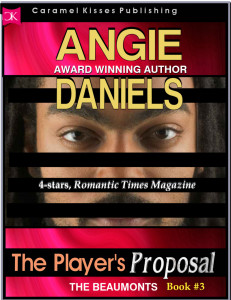 Danica Dansforth shared a month of sweet, sensual bliss under the sun and between the sheets with Jaden Beaumont—before feeling like a fool. Then she was outta that player's game! But fate had other plans when her car broke down, stranding her in his body shop, under his melting chocolate gaze and in the heat of a sizzling attraction.
Jaden wasn't about to forgive Danica for the games she played, but he would put her to work in exchange for some expensive repairs to her vintage car. Maybe now he could finally get some answers to why she left, and why memories of her warm cinnamon skin still kept him up at night. When it came to Danica, he was through playing. His heart was in this game for real.
Download Now at Amazon and B&N.
A Delight Before Christmas
 At the last minute Reginald Hodges is asked to play Santa at the clinic's holiday party. Mistaking him for their resident pediatrician, Berlin Dupree hops onto his lap and gives him the hottest kiss of his life. Realizing the mix-up, she quickly retreats. However, Reggie is now determined to get the bougie beauty in his bed for a brief
fling. But the more time he's with her the more he wants until she has this bachelor thinking about keeping her in his bed forever.For office manager, Berlin Dupree, the fine brotha from the hood is the last thing she needs. Reggie represents a past that painful experience has taught her to fear. She has dreams of marrying a doctor and living the good life, and refuses to settle for less no matter how good he makes her feel. She has no choice but to ask the sexy contractor for help. Reggie is willing but only after she agrees to three dates where he makes all the rules. Berlin embarks on the challenge of a lifetime as Reginald stops at nothing to claim her as his.
Download now at http://www.amazon.com/A-Delight-Before-Christmas-ebook/dp/B00AOAK4PC/ref=pd_sim_kstore_1