From the award-winning author of The Second Time Around, The Beaumont Series, comes a novella about love, family and making every second count….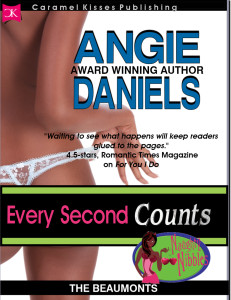 Brenna and Jabarie Beaumont have been happily married for nine years. She loves her husband and their five children, but between managing a bookstore and her family, Brenna is starting to feel overwhelmed. Determined not to be anything like her estranged mother, she feels forced to make a choice between the business she loves and quality time with their children.
As CEO of the Beaumont Corporations, Jabarie's been busy dealing with problems of his own. The hotel has been hit with economic hardship and has little choice but to lay off ten percent of its staff. But in Sheraton Beach everyone is family, and the Beaumonts are determined to find another way.
With everything going on, Jabarie thinks what he and Brenna need is a weekend away from the stresses of work and family, wrapped in each other's arms, but pulling Brenna away from the kids for an insatiable weekend is easier said than done. Jabarie is willing to use any means necessary to convince her. Unfortunately, getting away complicates matters in more ways than one. Is Brenna and Jabarie's love strong enough to overcome all the obstacles thrown their way?