Sometimes a girl should be careful what she asks for…
In hopes of avoiding a week of her interfering grandmother's matchmaking, wedding planner Zanaa Reynolds blurts, she's engaged. Then to her dismay, her parents call, insisting she bring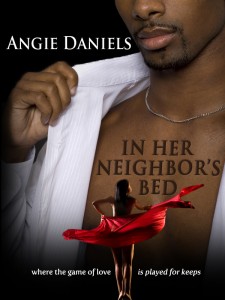 her fiancé home to Virginia. With the holiday only three weeks away, Zanaa better find a fiancé quick, fast and in a hurry, otherwise, her grandmother's going to have every eligible bachelor in town lined up at the front door. In a state of panic, Zanaa asks Scott Simmons to marry her. Only it isn't a real proposal—it's just to get the family off her back. Except the man she just propositioned—her sinfully sexy next-door neighbor—is all too irresistibly real.
 Because she just might get it…
 Scott has wanted Zanaa since the moment he'd moved next door. When she asked for his help he accepted with every intention of seducing his neighbor by indulging in every sexual desire. Unfortunately Zanaa starts having second thoughts and tries to back out of the arrangement. But now that she has made the first move, the videogame entrepreneur has every intention of taking the relationship all the way.
 "Angie Daniels displays a great sense of humor, and sexual tension permeates the characters' relationship throughout." RT Book Review on The Playboy's Proposition